Introduction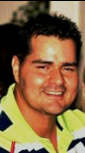 Andrew Keedah Hobson
is an enrolled member of the Navajo tribe. He is a contemporary Native American artist who uses his athletic throwing background and his passion for music to create artwork that generates movement, sound, and rhythm. He wants his artwork to transport viewers to places, memories, and passionate moments of celebratory life. He wants his art to infuse viewers with conversation and appreciation of love,laughter,celebration,and dance. These essentials of life are commonalities of all cultures and Andrew tries to visually capture these precious moments and themes in his artwork. Andrew resides in Ahwatukee, Arizona and is truly a transformed urban Indian. But, his hometown of Chinle, Arizona is never far from his heart. He tries to stay connected to the Navajo reservation through his artwork and through his mentoring of Native American students. Andrew is a high school art teacher on a reservation close in the Phoenix area. His art program helps Native American students reach their creative potential and he loves that his students inspire him as a professional artist.
Gallery Representation:
FOUR CORNERS GALLERY AT THE TUCSON DESERT ART MUSEUM
Please enjoy my work and contact me or the gallery if you're interested in any pieces for your home or business.
Contact Andrew:
Email
:
andrewkhobson@hotmail.com
Phone:
712-250-1293
Follow me on Facebook @ "Andrew Keedah Hobson"
---

In the News:

2017 "The Art of Indigenous Americans Group Show" Tucson Desert Art Museum.
​2016 "First Americans Group Show" Tucson Desert Art Museum
2015 Poster Artist Indigenous Law Conference, Michigan State Univ.
2014 Navajo Nation Fair Juried Art show Honorable Mention Ribbon in Sculpture Category.
2014 Santa Fe Indian Market Aug. 23-24. Booth #282PAL
2014 2nd place ribbon in sculpture category at Gallup Inter-Tribal Ceremonial Juried Show.
2014 Pendleton Legendary Series artist selection. Please visit the Pendleton website below and if you want signed copies of the collector's blanket or coffee mugs contact me.
http://www.pendleton-usa.com/product/Home-Blankets/Native-American-Inspired/LEGENDARY-SERIES/BUFFALO-CREATION-STORY-BLANKET/171900/sc/1736/c/1823/pc/1816.uts?
2013 Santa Fe Indian Market Booth 282 PAL
2013 1st place ribbon in painting at Gallup Inter-tribal Ceremonial juried art show.
2013 3rd place ribbon in sculpture at Gallup Inter-tribal Ceremonial juried art show.
2012 2nd place ribbon in oil painting at SWAIA Juried Art Show Aug. 18-19 for Santa Fe Indian Market.
2013 Solo Exhibition at Emily Fisher Landau Center for Visual Arts, Ashburnham , MA

2012 Santa Fe Indian Market Aug. 18-19 booth 282 PAL


2nd place ribbon 2012 Inter-Tribal Ceremonial Juried Show in mixed-media category
2nd place ribbon Inter-Tribal Ceremonial Juried Show in representational/portraiture category


2012 Phoenix Art Walk @ Pita Jungle downtown Phoenix runs thru August




2012 Phoenix Art Walk @ Phoenix Ale Brewery runs thru July and August




2012 Tempe Art Walk @ Moodswings on Mill Ave. thru June




2012 Heard Museum Guild Indian Market

March 3-4


2012 Carefree Indian Market in February